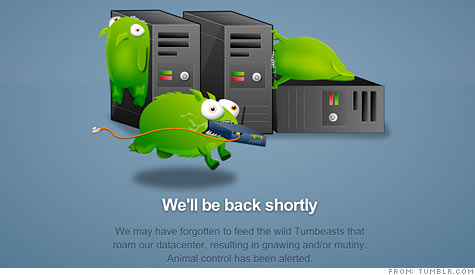 We've joked in the past about how often Tumblr has served us up a big ol' slice of error page (we jest in love! and just because we miss y'all so much when we can't get to you!).
Matthew Inman, author/illustrator of webcomic The Oatmeal, did us one better: He created a new error page, featuring green mutant critters chomping on servers. We reblogged it, as did many Tumblrites. And in its infinite wisdom, Tumblr adopted the little monsters for its official error page. The "Tumbeasts" already have their own Tumblr and Twitter pages.
Perfect fodder for a story that Stacy named "Site crashed? No prob, here's a kitten." In that piece, I chat about how tech startups including Tumblr, Twitter and Pandora are using funny messages and cute mascots to be transparent about screw-ups.
Matt from The Oatmeal also weighed in, and he was hilarious — but I kept out all the words that would offend moms everywhere. Check it out! -Julianne
Update: Rebecca over at comparisons site This or That emailed me to let me know they're running a "Sharks vs. Jets-type battle of which 'site is down' mascot is better: Tumbeast or Twitter's Fail Whale." Vote here  — Tumbeast is currently commanding 84% of the vote. And check out more tech battles here.